Click here to view the recording!
Additional Resources:
Emerald Ash Borer Has Been Found in the Pacific Northwest . . .
. . . and it's bad news for ash trees.  Emerald ash borer is an invasive beetle that became established in the U.S. in the early 2000's near Detroit, MI.  It has since killed millions of ash trees in the eastern U.S. in Canada and is considered one of the most destructive invasive pests in history. Until recently, it has not moved west of the Rocky Mountains but last year it was found outside of Portland, Oregon.
This could have big impacts on forest owners in Washington, particularly those in southwest Washington where the native Oregon ash has a greater presence.  Ornamental ash species like green, white, or European ash are also commonly found in landscapes and highly susceptible, which means urban and suburban areas will also be affected throughout the state.
This webinar will focus on properly identifying both the beetle itself and the  symptoms on trees.  We'll also discuss the implications for Washington forests and wetlands, management options, and what to expect in the coming years.
This webinar will be presented by Kevin Zobrist with Washington State University Extension.
When and Where
April 26, 2023, 1-2PM (Online)
This seminar will be offered via a live, interactive webinar. A high-speed internet connection is needed. Dial-up will not work. You can access the webinar with your computer or mobile device.  Connection information will be sent to those registered the morning of the webinar.
A recording of the webinar will be made available to those who register.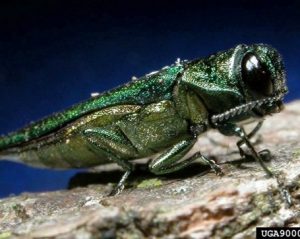 Acknowledgements
This programming is made possible in part by funding from the Washington Department of Natural Resources, Lewis County, Pacific County, and the U.S. Forest Service.
Accommodations
Extension programs and employment are available to all without discrimination. Evidence of noncompliance may be reported through your local Extension office. Reasonable accommodations will be made for persons with disabilities and special needs who contact Patrick Shults at patrick.shults@wsu.edu at least two weeks prior to the event.